Dear Visitors,
the multi-ethnic Station Key Channel Radio is rarely to listen. Next saturday 14.5. they will be on the air 12 hours without interruption on

6920 khz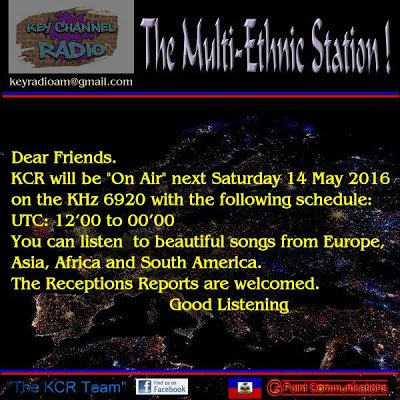 by the way: they 've done an information action via twitter with huge success.
RECEPTION REPORTS ARE WELCOME ! PLEASE SEND VIA EMAIL TO:
KEYRADIOAM@GMAIL.COM
Nachsatz für Hörer in großstädtischen Gebieten mit viel
QRN Störungen:
Nutze den Service unseres Sponsors
www.globaltuners.com
Dort sind 24 Stunden täglich immer KW-Empfänger frei, rund um den Globus, die man via Internet fernbedienen kann. Eine tolle Idee ! Kostenfrei ! Es dauert etwa 24 Stunden, bis man freigeschaltet ist, also auf geht's !!